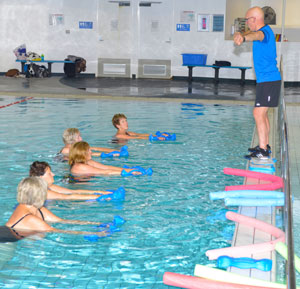 Aquatic or pool therapy exercises are performed in the water.  They are useful for lots of medical conditions because the properties of the water such as the buoyancy which supports your weight, are very helpful.  Water reduces the forces that are put on your joints, and this therapy if particularly good if you have arthritis, broken bones, or are overweight.
A great source of resistance comes from the viscosity of water, as it allows you to strengthen muscles without the need for weights.
The warm water temperature also helps in relaxing your muscles and widening your blood vessels, which increases blood flow to injured areas.
Joint Movement Therapy classes are offered now at the Launceston Aquatic Centre in the warm pool.
For bookings and more information please contact Martin O 'Toole on 0412 296 694 or martin@arthritismanagementsolutions.com.au.
We are taking enrolments for 45 minute warm water Joint Movement Sessions at Launceston Aquatic, High St, Launceston.
Classes are
Tuesdays 9am,
Wednesdays 2pm and
Thursdays 1.30pm.
These classes will fill quickly, so book now!
Price: only $10 per session.