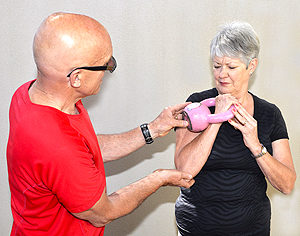 Hi, I'm Martin O'Toole, and I specialise in Arthritis Therapy in the Launceston (Tasmania) area.
My philosophy is all about fitness that is based on mobility first followed by function. If you can't move well you won't be able to perform everyday tasks with fluid movements especially as you get older. What is the point in being able to say lift heavy weights if that movement pattern creates imbalance in the body.
My regimes:
Kettle bell, body weight, postural and functional movement training are my fitness regimes of choice.
As a kettle bell trainer now for about seven years I have seen the huge improvement in clients' fitness both aerobic and anaerobic. This 300 year old Russian strength training regime is changing the way western society is viewing how to get "fitter and stronger" with a minimum of equipment.
I will unlock the secrets to this "old school" method of training for functional strength and mobility. I think the use of the term "old school" implies that it demystifies all the modern machine based methodology of fitness. Keeping it simple in other words.

My qualifications:
My absolute passion is to create an environment for both the "young and young at heart" where overall nutrition and fitness is an accepted norm.
Kettle bell, body weight and functional movement training regimes together with virtually eliminating wheat from my diet has changed not only my life ( I am in my mid 60's and so is my wife Ann) but many people who have adopted this lifestyle. So can you!